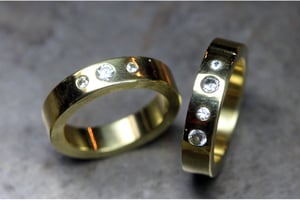 $

225.00
*Click the drop down option to select your class
*This class also requires the purchase of a materials kit $50 for you to keep. It includes a number of tools, burs, stones, etc. -and will be available to you at the beginning of the workshop.
How to Register // You can register for class online through this website, or by calling us at 718-388-2190.
Class Size // Class size is limited to 12 students in order to allow you lots of workspace, maximum accessibility to equipment, and plenty of personal interaction with the instructors.
Cancellation Policy // Full refund (less 5% processing fee) up to two weeks before the start date will be honored. Cancellation within two weeks will receive a 50% credit for up to one year that can be used towards future classes. Cancellation within one week is non-refundable.
As an alternative you can call the studio to make a payment over the phone, let us know if you'd like to send a check, or arrange a studio visit. 718-388-2190
Please make checks payable to Liloveve Inc
Liloveve Jewelry
457 Grand Street
Brooklyn NY 11211
*your seat will not be saved if you do not notify us that you would like to register prior to sending us the check, so please send us an email or call the studio!